home > about > guidance
Guidance introduction
The Building Greener guidance document is now available from the CIRIA bookshop. Visit the CIRIA website to order a copy of CIRIA guidance C644.
What is the guidance about?
The guidance is an easy-to-use resource that explores the planning, design, construction and maintenance issues surrounding the incorporation of green roofs, green walls and associated features in buildings. Particular attention is given to how these features can benefit the built environment by enhancing biodiversity, sustainable drainage and thermal efficiency.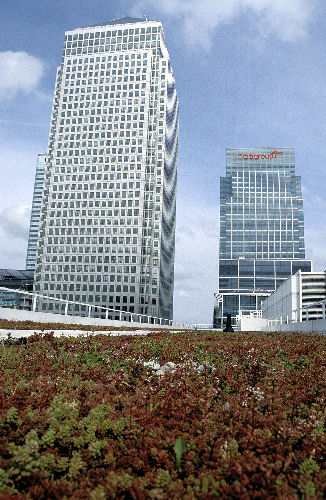 The guidance addresses the incorporation of green roofs, green walls and associated features across a range of different property types for both new and existing buildings. It provides a comprehensive assessment of published information on green roofs and walls with further guidance on their design, construction and maintenance.

Terrestrial landscaping associated with or adjacent to buildings is not addressed, although consideration is given to the landscape context and how this provides opportunities or imposes limitations with respect to biodiversity, stormwater management and climate change mitigation and adaptation.
Who should read the guidance?
The guidance is intended for use by those who require independent advice on the planning, design, construction and maintenance of green roofs, green walls and other biodiversity features. In particular the document aims to dispel myths for clients and designers and to enable planners to maximise the benefit of design options.
What does the guidance cover?
The guidance includes information on:
the framework and drivers provided by planning guidance, Building Regulations etc.
the benefits and challenges, design choices and construction and maintenance issues in relation to each of the features
case studies – highlighting good practice and lessons learnt

key points summarising each chapter for quick reference
references for further information
How was the guidance produced?

To ensure that the development of the guidance responded to stakeholder needs a focused consultation process was undertaken. This sought to:
identify specific guidance requirements
obtain feedback on knowledge gaps as perceived by industry
identify the guidance requirements of different stakeholders group
identify case studies
The consultation process commenced with the distribution of a focused questionnaire. The outputs from this then formed the basis of a one day workshop which facilitated an in-depth evaluation of the key issues. For more details on the consultation activities undertaken please read the consultation report.